GALAXIA,
a unique, diverse site dedicated to space
A business centre connected by optical fibre to the ESA-ESEC station in Redu and home to an incubator for start-ups and spin-offs
Moving to the business centre means benefiting from customised support in ultra-modern, secure facilities right in the heart of one of the biggest photovoltaic architectural projects in Europe.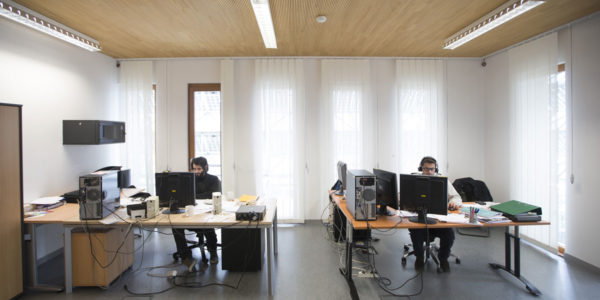 Professional business support
Right at the heart of the GALAXIA business park there is a 2,000m² high tech business centre designed for two types of company specialising in space applications:
well-established companies 
start-ups and spin-offs. These young companies will receive support from the GALAXIA Space Innovation incubation centre and enjoy access to a comprehensive range of services to help them grow.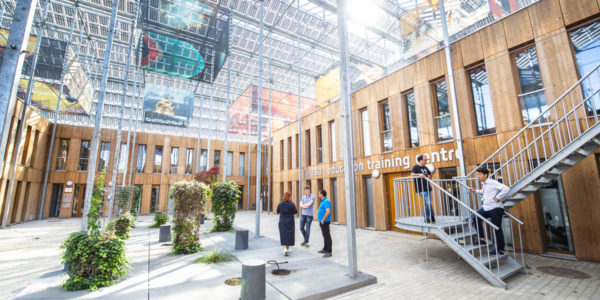 Ultra-modern, secure facilities
Security for people and for data.
Equipment at the cutting edge of technology:
identification system,
access control system using magnetic passes,
electricity produced by photovoltaic panels (4,700m²),
fibre optic link between the GALAXIA business centre and the ESA ground station,
fibre optic link between the GALAXIA business centre and the global network,
very high speed Internet connections,
"Tier 2 data center" server rooms, totally pre-installed (TIA/EIA-942 standard),
dual emergency power supply system (short or extended power failures).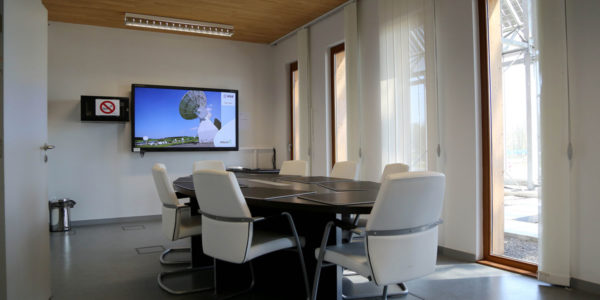 Shared services and equipment
As well as working in fully equipped office, each company housed in the business centre pays a single monthly fee to benefit from shared services and equipment:
reception,
telephone switchboard for when they are not there,
letters and parcels distributed internally,
photocopier,
ability to book meeting rooms,
security system,
air conditioning,
bathrooms,
electricity, water etc.
cleaning and maintenance.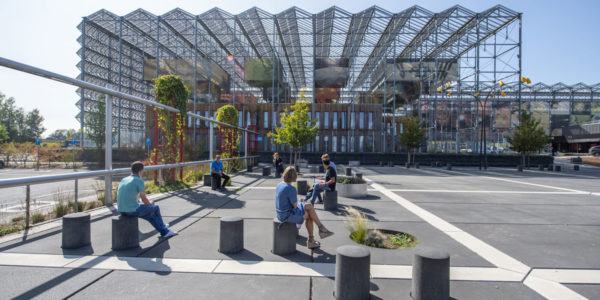 Innovative, sustainable architecture
The biggest architectural project dedicated to the production of solar power in Belgium: integration of around 4,700m² of photovoltaic panels on the building,
Annual production is 313,000 kWh (corresponding to the consumption of 90 households) and the savings in terms of CO2are estimated to be 142.8 tonnes a year,
Rainwater is recycled,
Use of wood in the structure and exteriors of the buildings,
Air to air heat pump etc.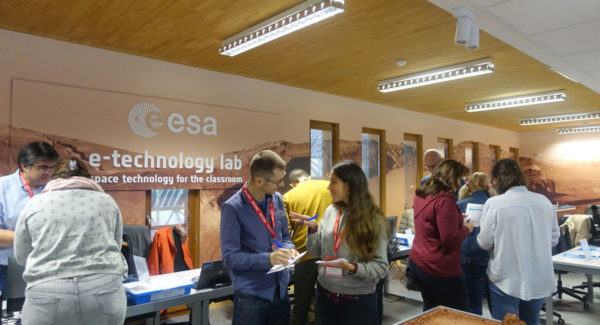 Professional support when it comes to business incubation
Within the business centre, GALAXIA Space Innovation (formerly known as ESA BIC Wallonie Redu) is an incubator offering a support programme aimed at innovative start-ups using space technologies to help them develop and create their business.
Thanks to the incubator, these start-ups will be able to benefit from a wide range of services:
The incubation package offered by ESA BIC Belgium is designed to last for between one and two years. All official communication with the ESA is in English.
To find out more: spacesolutions.be
The GALILEO Integrated Logistics Support Centre
In December 2017, a one-of-a-kind building was opened at the GALAXIA business park in Transinne: the GALILEO Integrated Logistics Support Centre (GILSC). This building is made available to the European Commission.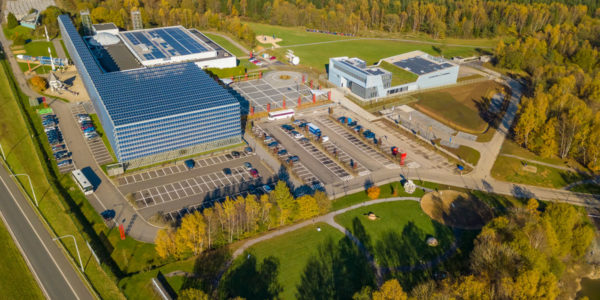 A strategic centre for Europe
As a reminder, GALILEO is the ambitious programme designed to give the European Union its own satellite navigation system. The availability of the resulting services for citizens and professionals needs to be impeccable. To begin with, this challenge is being met thanks to a network of 30 satellites, 16 stations on the ground and 12 centres.
In March 2016, when they approved the Belgian proposal for a new "ILS" building for GALILEO in Transinne, the European Commission made the decision to make the GALAXIA space centre the nerve centre for logistics for these centres as well as for maintaining their facilities.
IDELUX then took up the challenge of delivering a building that would meet the specifications within the deadlines that were set.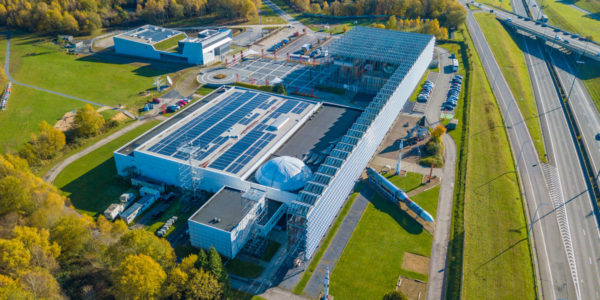 A high-performance centre at the cutting edge of technology
This building of around 3,000m² houses 30 highly qualified operators from Vitrociset as well as a team of experts from the GSA (European Global Navigation Satellite Systems Agency). The centre makes it possible to guarantee that all the ground stations in the GALILEO system (remote sites and sites in Europe) are fully operational.
A little technological gem, it incorporates the best current standards in terms of fibre optic connectivity and security (anti-intrusion system, presence detectors, secure power supply etc.), a centralised management system that can be controlled remotely (temperature, doors/windows, cameras etc.) and excellent energy performance (photovoltaic panels, geothermal probes, rainwater recovery etc.).
has been educating the young, and the not-so-young, about science, focusing on the main theme of space. A spectacular experience immerses visitors in the world of space exploration. Every year, the ESC welcomes children from around the world, racking up 40,000 overnight stays a year;
has been hosting exhibitions, seminars and events (flexible meeting rooms, an auditorium that seats 140 people, a cafeteria and much more).
The Euro Space Center had a complete makeover in 2020 and now offers a range of new services! Find out more in our article dedicated to this transformation!
More info at www.eurospacecenter.be!
Work on the park is set to continue to welcome more businesses specialising in the space sector.
The park being developed has 20 hectares of land available to build on, ready to offer the best possible setting for cutting-edge businesses.
The only business park in belgium dedicated to applications and innovation connected to space